BECAUSE OF YOU HAITIAN CHILDREN WILL BE EAGER TO LEARN!
Reach 360 students with Math, History, and the Gospel
A new Christian school building has been constructed to provide education, nutritious meals and God's Word to more than 360 students in a remote Haitian community. The children this school was founded to serve are among the poorest of the poor.
As the first day of school approaches, we need your help to furnish the classrooms and empower the children for learning. Your support will transform the currently empty building into a fully equipped faith center for learning and spiritual discovery!
OUR MINISTRY PARTNER
The principal, Pastor Oville Wilzer, left a comfortable life in Haiti's capital city to follow God's call and bring hope to this remote area. There, he was appointed to lead a small church and school. One of his biggest objectives was to get the children out of the cramped, damaged facility and into a safe and adequate space for studying, eating a daily meal and learning God's Word.
The new building has been constructed, but there is still an urgent need to stand with Pastor Oville to give the children an educational experience that will ignite their minds and hearts.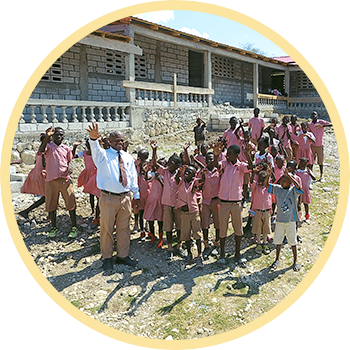 The kids are eager to start their first day of school. Let's make it a great one!
Proceeds from this campaign will be used to cover any expenditures for this project incurred through June 30, 2019, the close of our ministry's fiscal year. If project costs extend into next fiscal year or beyond, sufficient funds from this campaign will be carried over to cover those expenses. In the event that more funds are raised than needed to fully fund the project, the excess funds, if any, will be used where needed most.